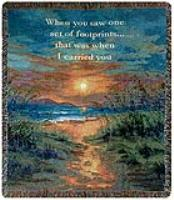 Express your love and sympathy with a lasting keepsake that will bring comfort in the days ahead.

This inspirational throw can be sent on an easel with a bow for display at the funeral home. After the funeral, the family has a beautiful blanket to use and comfort them at home. Throws are 60" x 50".

Scripture on the throw reads: "When you saw one set of footprints... that was when I carried you"

Basic price is for a throw sent in a gift box. To be sent to a funeral home, select the option to display on an easel, with or without flowers.